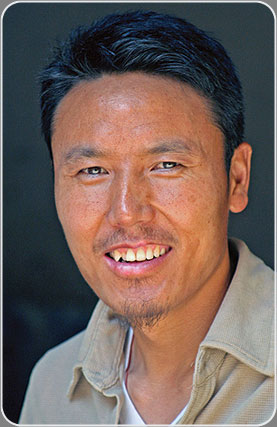 Tashi R. Ghale hails from Manang - heart of the famed Annapurna region - north of Mt. Annapurna. He pursued his studies in the hill station Darjeeling, India.
Tashi's photos are subtle. The landscapes are alive and impressive, he lets the mountains speak for themselves. His studies in the light and shadow create an ambiance that is at once mysterious and down to earth. Life's passing moments and their fragility are captured in the instant of an eye that is trained to see the beauty in small things. He deals mainly with the Himalayas, wild life, social, culture and religious life of Manang.

He has been commented by a US based group for snow leopard conservation as the first Nepali photographer to capture the pictures of elusive snow leopard in its remotest habitat.
His work of art has been on calendars, postal cards, books, travel magazines, trekking maps, brochures. He has played a huge role in the Destination Manang 2004 and 2007 campaign.
Currently based in Manang Tashi also runs a guest house.
Exhibition

• Via Via Traveler's Cafe, Kathmandu-2003
• HRA, Manang-2004
• Impressions of Manang (group) NTB-2007
• Yak und Yeti Nepalese Restaurant in Vienna, (Austria)
Award

• 3rd best entry at KIMFF in association with Himal Media and WWF-Nepal Entitled Snow Leopard, 2006
• 2nd prize in Press Photo Contest 2007 (National Forum of Photo Journalist) Entitled Yartung (Sports photo of the year)